Your Local Specialists For Groundwork & Driveways in Manchester
By improving the way your home looks from the outside, the entire property can be given a new lease of life and a fresh look. Manchester Drives & Landscape offer a professional installation service for patio & driveway surfacing, all aspects of groundworks & commercial surfacing including car parks & forecourts.
Click To Call: 0161 524 0550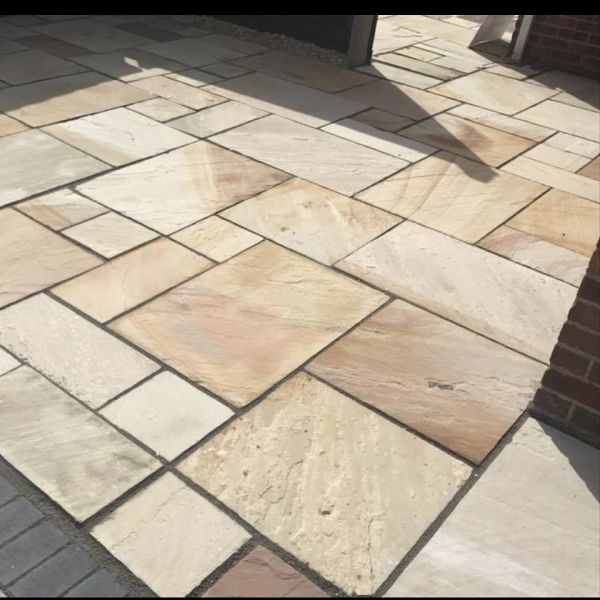 SERVICES
Learn more about our paving services here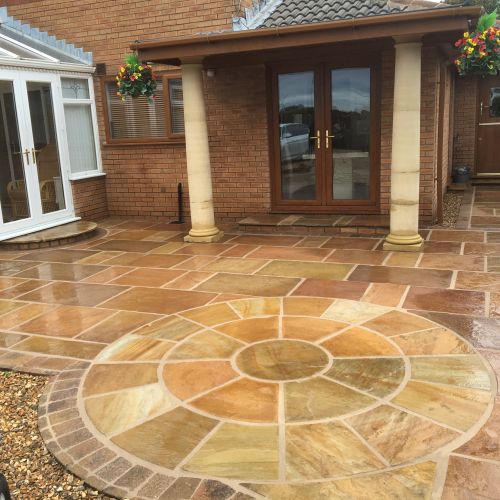 AREAS COVERED
We proudly serve Manchester and the surrounding areas.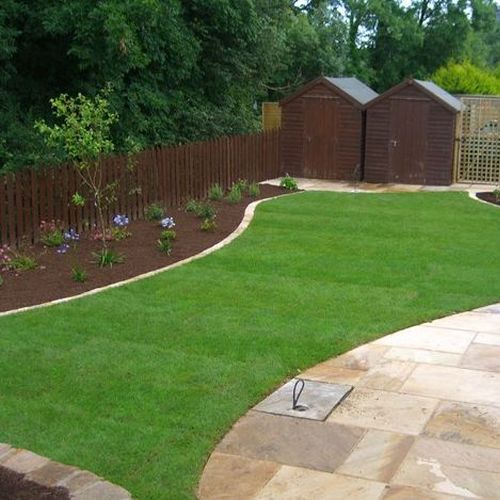 GALLERY
Our gallery of works features some of our local projects
The home of quality patios and driveways in Manchester, Manchester Drives & Landscapes offer a complete bespoke driveway and hard landscaping service across the whole of the Manchester and North West area.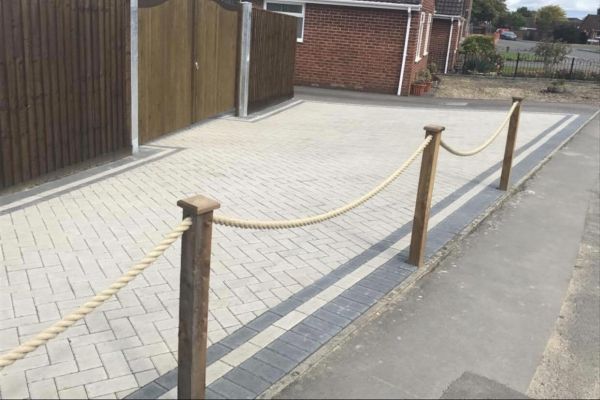 A LOCAL PAVING COMPANY
We take great pride in our work and look after every aspect of the driveway installation. We have a broad portfolio of projects which we have completed in a variety of environments, which but a few can be viewed in our gallery to give you a good idea of the results that we have achieved for other homeowners & busineses in the Manchester area. We maintain our high standards by completing all groundwork projects in Manchester in-house using our own expert contractors and our own equipment. Creating quality patios and driveways in Manchester is our area of expertise, so if you are looking for a reliable company to add the perfect finishing touch to the exterior of your property at a fair price with no compromise on installation standards, look no further than Manchester Drives & Landscapes for your groundwork project.
WE ARE SPECIALIST INSTALLERS OF:
Tarmac Driveways in Manchester
Tarmac is a very popular surfacing option for sprucing up that tired drive. It combines hard stone with a bitumen compound that binds the stone creating a hard wearing impermeable surface.The great thing about new tarmac driveways in Manchester are that they give a lovely, uniformed, traditional finish. They also provide for a hard wearing, scuff resistant surface that requires very little maintenance to keep it looking smart. Tarmac is also resistant to puddling and surface water and hard weather frost and sun. Perfect for an all weather driveway. There have been lots of advances in tarmac driveway products meaning you can now get various colours and stone types, enabling you to get the driveway look you want. When finished with nice, decorative edging, tarmac can give you a distinctive look to your home. There are also a number of alternatives to the bonding compounds used to tie the stone together. Whether its a resiednetila driveway or a commercial project for a car park, road surfacing or other, we have vast experience surfacing with tarmac and can offer a competitive quotation for your project.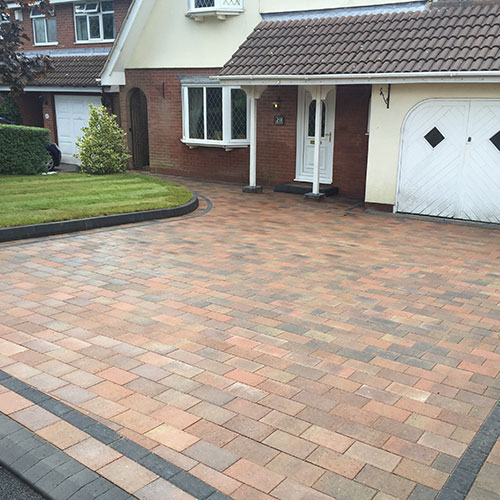 Block Paving in Manchester
Having a good-quality patio or driveway can make your home more visually appealing. The right kind of surfacing material can really complement the apearance of your property, whether its having a patio in your back garden or another kind of structure. One of the best materials is block paving, made from concrete and clay. The blocks can be laid in detailed patterns and shaped to individual taste. There are various advantages to block paving and we're listing five benefits. Due to its durability, block paving is a long-lived material. Block paving in Manchester is durable enough to withstand the pressure of an airplane, which is why it's a common material at airports. You can drive your car over it many times and it won't suffer from any wear and tear. Also, block paving is highly resistant to most chemicals, oils, salts and frosts.
Imprinted Concrete Driveways in Manchester
Are you looking for a maintenance free driveway, but with the look and feel of high quality driveway blocks or slab paving? Imprinted Concrete is a great material for your driveway or patio area. It's extremely hard wearing and robust. It's easy to use and work with and low cost, compared to some other products. Years ago, a concrete driveway would have been a grey, flat slab, maybe with lines etched into it to create a slightly rough surface for grip. However, times have changed and concrete is now available in many more styles and colours allowing you to design something that looks more like paving slabs or blocks. Concrete can also be left rough or made smooth with the combination of glazing products and additives. We are one the very few driveway companies in Manchester that specialise in Imprinted Concrete driveways and patio surfacing.
All our imprinted concrete installations come with our 10 year guarantee and 100% satisfaction guarantee. Unlike other driveway companies, we do not ask for any upfront payments, so having us install your driveway is low risk, you pay for the work after you see the standard of our wormanship not a second before!
Resin Driveways in Manchester
Resin bound surfacing is a innovative surface treatment, with a highly decorative finish that will brighten up any area it is installed. Resin can be utilised in a wide range of applications from a private customer to prestige public realm contracts. This cost effective surfacing solution has a high visual impact using a huge number of coloured, recycled aggregates that can be blended and laid in patterns / designs to suit or match any clients needs. Coupled with a UV stable cold applied resin, you can be assured that the visual impact will be maintained for years to come.
Resin can be installed onto new or existing sub-bases such as tarmac, concrete and hardcore depending on the intended use. Such as: Pathways / Driveways / Patios / Feature Areas / Carparks / Housing developments / Office Developments / Landscape Projects / Access Ramps and much more.   Resin driveways in Manchester offer a smooth yet anti-slip surface that is low maintenance, only required to be swept or power washed twice a year to maintain the visual impact and porousness of the product.
Garden Walls & Paths
Manchester Drives & Landscapes can design and construct all types of garden walls and perimeter walls. Whether you are looking for high walls for privacy or dwarf walls to define areas within your garden, we can cover all project work. We build using traditional brick and block, through to dry stone walling and flagstone wall and mortar. Like patios, walls enjoy a wide range of materials from which to construct the wall itself. It is quite possible to source bricks that match your house style, or very similar. Equally, traditional stones from your local area can be sourced such as slate, Yorkstone, Limestone, etc.Typically, we would ask to visit your property in order to work out what style of wall and materials you might need. With our wealth of experience, we are happy to advise and help determine the perfect balance between cost, materials, wall size and time to complete your groundworks project in Manchester.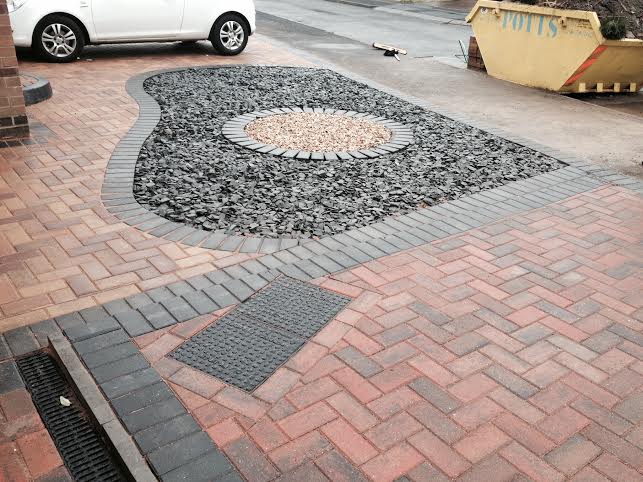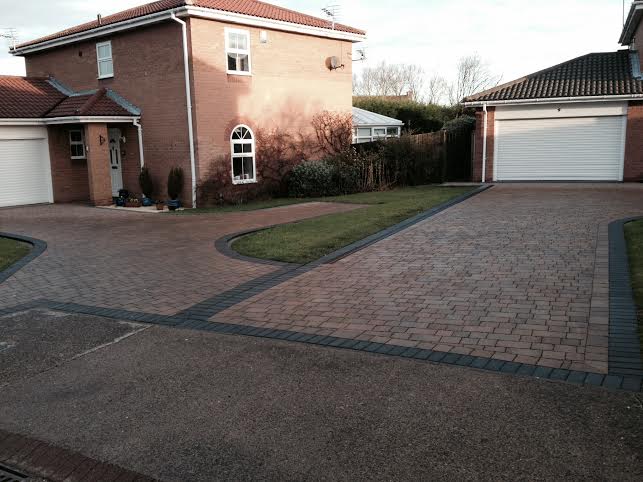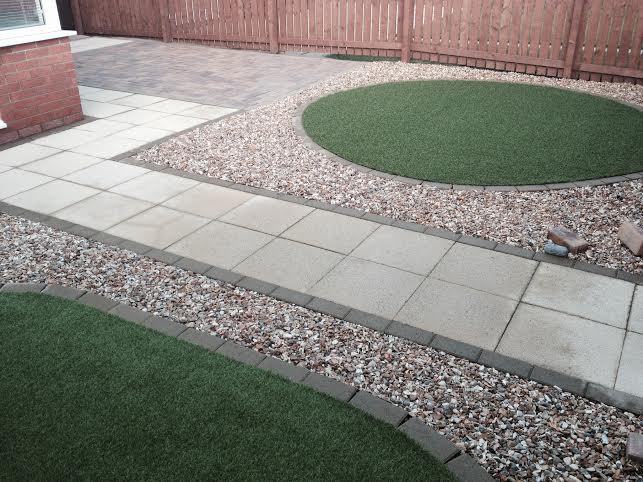 Contact Your Local Paving Company in Manchester
Manchester Drives & Landscapes pride ourselves not only on the quality of our work, but our competitive prices, too. Offering truly magnificent driveways at such cost effective prices has benefitied all of our customers in Manchester for many years. Are you interested in our driveway services in Manchester? If so, you can fill out a form and a member of our hard landscaping team will get back to you as soon as possible. Alternatively simply call us,, questions or queries are welcome, quotations and advice are offered free of charge and without obligation.