Manchester Drives & Landscapes specialise in a wide variety of finishes for driveways in Salford including exposed aggregate, block paving, pattern imprinted concrete, resin, wallcrete renders, wall extensions, concrete driveways, cobble driveways, tarmac driveways, patios and decorative concrete – all for commercial or residential properties.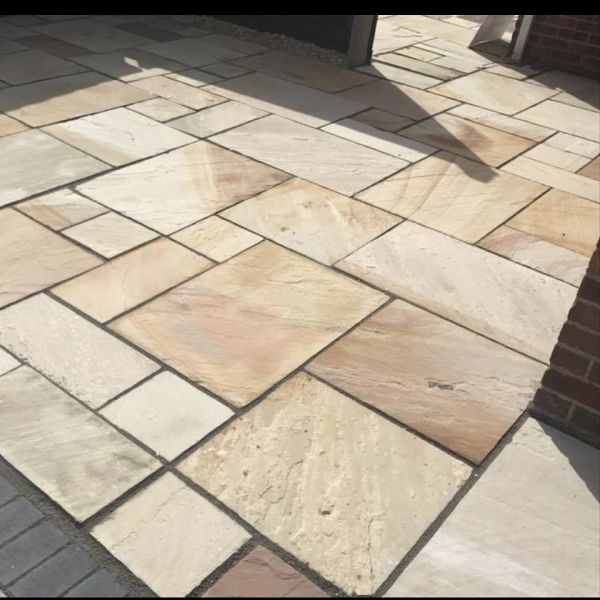 SERVICES
Learn more about our paving services here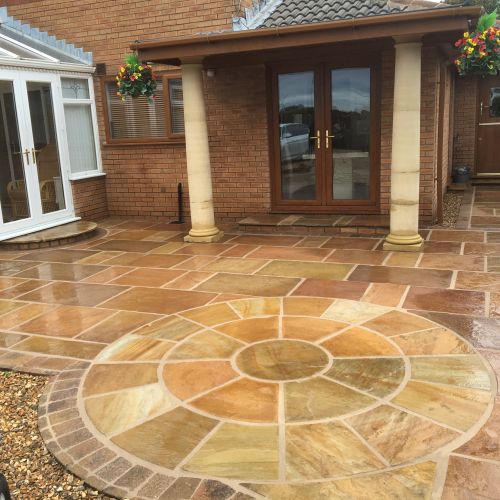 AREAS WE SERVE
We proudly serve Salford and the surrounding areas.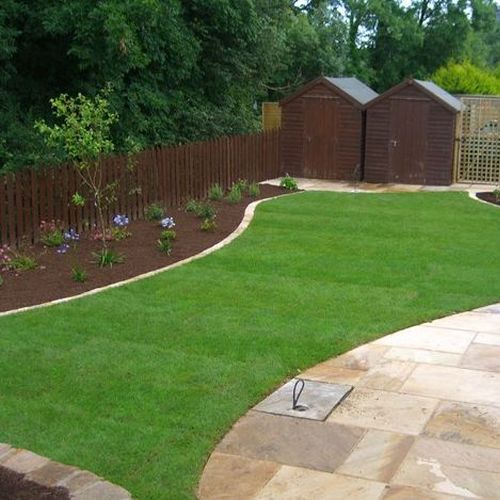 GALLERY
Our gallery of works features some of our local projects
With over 60 years of combined experience, we can create you something special. Our in-house team of expert pavers can offer advice on design, layout and any technical element of the installation.
Our diverse product range and installation knowledge means we have the ability to offer a variety of driveway solutions for all budgets.
Material Options For Driveways in Salford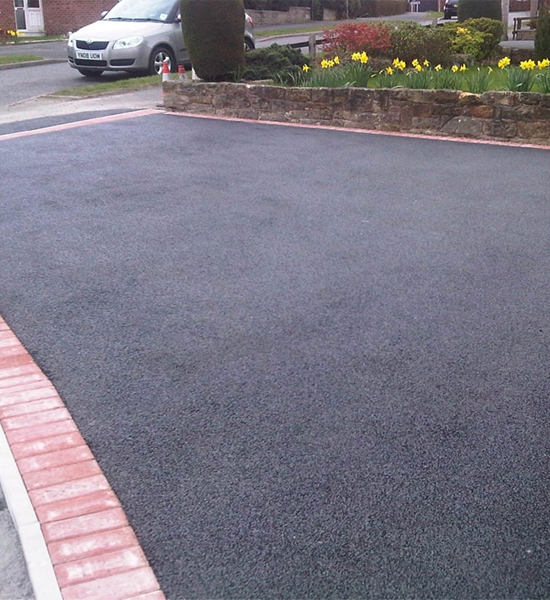 Concrete Driveways in Salford
Normally when people think of concrete driveways they think they will be dull and grey. However using a combination of colour and design you can create a driveway that's visually stunning as well as durable and long lasting. We have layed a lot of imprinted concrete driveways in Salford and they all vary in style but are all long lasting and improve the look of the property they lead too.
Tarmac Driveways in Salford
Tarmac driveways are highly popular with our customers throughout Salford as they offer a durable and long-lasting surfacing option. Whenever we carry our tarmac driveway installation, we ensure all of our customers expectations are met and exceeded at every level. If you're interested in having a tarmac driveway installed, then please don't hesitate to get in touch with Manchester Drives & Landscapes. We have years of experience in the industry and have all of the skills and knowledge needed to ensure a professional service is provided. Get in touch today for a free quote.
Block Paving in Salford
One of the best materials for surfacing driveways in Salford is block paving. Blocks can be laid in detailed patterns and shaped to individual taste in an almost endless manner of designs & patterns. There are various advantages to block paving. Due to its durability, block paving is a long-lived material. Block paving in Salford is durable enough to withstand the pressure of an airplane, which is why it's a common material at airports so you can drive your car over it many times without worry, a block paved driveway won't suffer from wear and tear very easily. Also, block paving is highly resistant to most chemicals, oils, salts and frosts so maintenance is minimal
Resin Driveways in Salford
Resin bound surfacing is a innovative surface treatment, with a highly decorative finish that will brighten up any area it is installed. Resin can be utilised in a wide range of applications from a private customer to prestige public realm contracts. This cost effective surfacing solution has a high visual impact using a huge number of coloured, recycled aggregates that can be blended and laid in patterns / designs to suit or match any clients needs. Coupled with a UV stable cold applied resin, you can be assured that the visual impact will be maintained for years to come. Our team offer the highest quality resin driveway installations in the Salford area!

Flagging in Salford
Whilst flagging remains a popualr choice for homeowners in Salford who are considering a new driveway installation we very rarely advocate flags for driveway surfacing. Durability is the key issue with flagged driveways prone to sinking over short periods of time, and flags cracking and needing to be replaced. If its the look of stone you are looking for then block paving would always be the better option to ensure your new driveway stands the test of time. Flagging for patios remains popular however and the concerns associated with a flagged driveway are lesser, footfall will sink flags over many many years but the impact is nominal and as such we often use flags to pave new patios and walkways in the Salford area.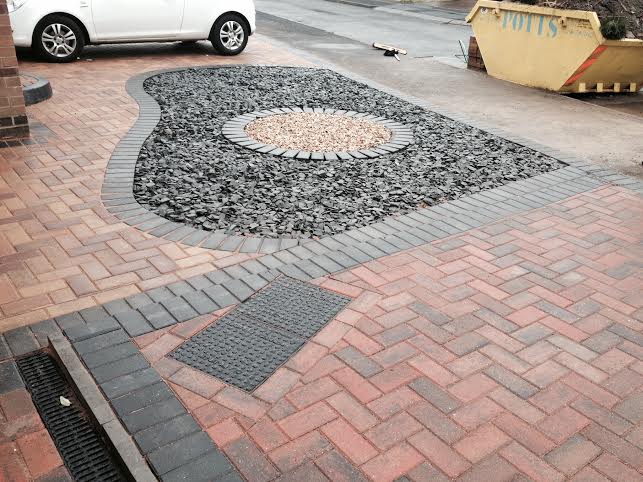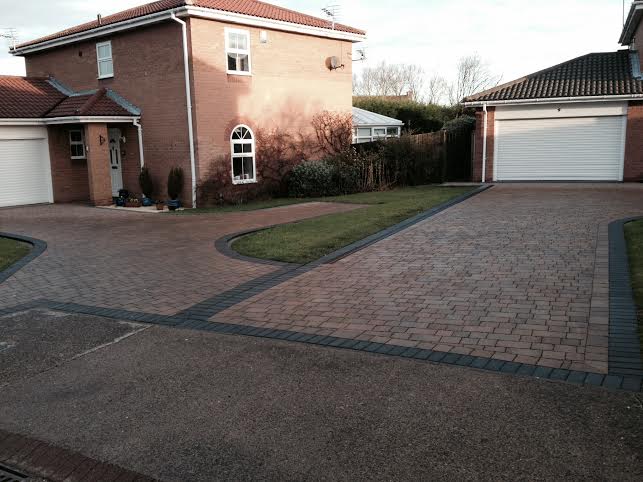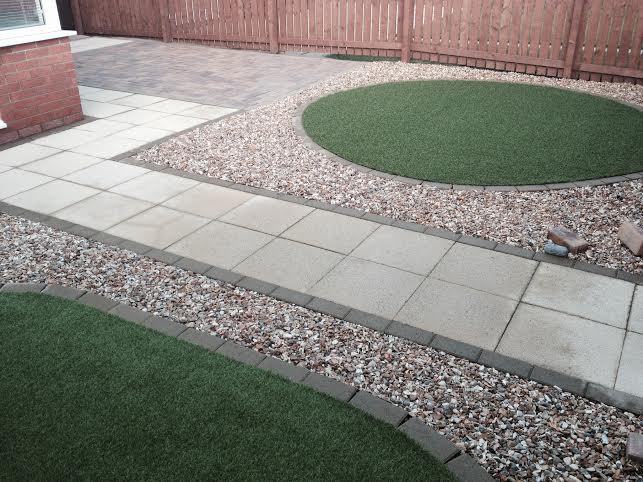 Contact Manchester Drives & Landscapes
If your considering a new driveway installation at your property in Salford we would love to hear from you and would be happy to quote for the work. It will be a member of our paving team surveying the site and providing a written quotation, not a sales person! Your under no obligation with Manchester Drives & Landscapes and quotations are provided in writing by email valid for 30 days so you have plenty of time to consider and compare our pricing against other local contractors.